Wednesday June 10th
Hamburgers
Did you know that recipes for hamburgers existed in the Roman Time? It wasn't exactly a hamburger, it was minced meat (cut into small pieces) and mixed with pine nuts, pepper and white wine. https://en.wikipedia.org/wiki/History_of_the_hamburger,
Though the recipe does not include a bun or ketchup, it's possible that a Roman in hurry could have used some flatbread to put around that cooked concoction to make it easier to eat on the way to the coliseum.
This is what my recipe is based on,
It's a 1600 year old burger recipe!
The hamburger as we know it is American, here is a quick 4 minute history if you are interested.
https://www.youtube.com/watch?v=rAHvdlvjWbI
Have a little fun with your recipe the next time you make a burger-
Equipment
Mixing spoon
Mixing bowl
¼ cup measurer
Plate for raw burgers
Tablespoon
Skillet
Spatula
teaspoon
Ingredients
½ pound of ground beef
¼ cup of flour
¼ cup of marion berries
¼ cup of chopped pine nuts
2 Tablespoons of Worcestershire sauce
Salt to taste
Pepper to taste
Cooking oil
Hamburger buns
Ketchup
Mustard
Lettuce
Tomato
Directions
Put ground beef into a medium mixing bowl

Add flour

Add Marion berries

Add Pine nuts

Worcestershire sauce

Salt

Pepper

Mix thoroughly

Shape burgers into patties the same size as your buns

Make a dimple with your thumb

Put a teaspoon of cooking oil in pan

Turn heat on to medium high

Heat oil

When the oil is hot put the hamburger patties in the pan

Cook for 4minutes

Turn over with the spautal

Cook for another 4

With a meat thermometer check temp of burger, should be 160

When burgers are finished transfer them to a clean plate

Dress buns how you want

Enjoy!
Monday June 8th , 2020
I can't believe this is my last cooking post of the school year! Summertime is almost here!
So, in honor of that I went with two recipes that I absolutely have to have in the summer. Hope you enjoy! ~Heather
At least once a week, this time of year I make a Caprese Salad. I love the combination of flavors! So simple, and so delicious!
Tomatoes, soft mozzarella, basil, olive oil, oregano, salt & pepper. Yummy! In the video below Chef Gennaro shows how it's done:
Something else I can't live without in the summer are s'mores. I don't have them as often… maybe only once or twice over the whole summer.
But, summer would not be summer without them. Click on the links below to find fresh new ways to upgrade your s'mores.
——————————————————————-
Wednesday June 3rd, 2020
Quick and Easy Pizza
I did this recipe with Zander once, he liked it because it tasted good and was easy to make.
The sauce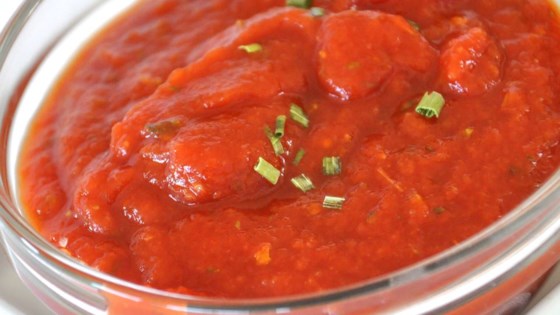 https://www.allrecipes.com/recipe/44975/easy-pizza-sauce-iii/
1- 15oz can of tomato sauce
1- 6oz can of tomato paste
1- Tablespoon Oregano
1 and 1/2 teaspoon of minced dried garlic or garlic powder
Paprika.
The crust Ingredients
Original recipe yields 8 servings
https://www.allrecipes.com/recipe/20171/quick-and-easy-pizza-crust
Mix the dough using an electric mixer or stir with a spoon until it is smooth.
For Zanders favorite, top with sharp cheddar cheese and pepperoni.
Follow directions for the pizza crust recipe
Top with sauce

Grate cheese

Sprinkle grated cheese over pizza

Cover with pepperoni and bake.
Monday June 1st, 2020
Baked BBQ Chicken
Don't like to use a grill, no worries! You can make delicious BBQ Chicken right in your oven.
Adapted from: Cozycakescottage.com
Serves: 4-6
Ingredients
About 3 lbs. chicken pieces (I like to use drumsticks)
The Sauce :
18 oz. bottle of Sweet Baby Ray's barbecue sauce
Instructions
Preheat oven to 375°. Spray 9 x 13-in. baking dish with cooking spray, or oil. Place chicken in dish, coat chicken with sauce, reserving about ½ cup for later. Loosely cover with foil and bake for about 35 minutes. After 35 minutes, remove foil and turn the chicken. Spread/pour remaining sauce mixture over chicken. Bake uncovered for another 35-45 minutes or until chicken is done. *Please check your chicken as time will vary with ovens and the type of chicken pieces you use.
***Yummy side dish ideas: Loaded mashed potatoes & corn on the cob:
https://www.allrecipes.com/recipe/240157/loaded-mashed-potatoes/
https://www.delish.com/cooking/a22487458/corn-on-the-cob/
Wednesday May 27, 2020
Quarantine lunch
This is something I threw together after our 12:30pm lunch meeting. About halfway through the meeting, while everyone shared what they had for lunch, I realized I was starving. I used hummus from my fridge, then cut up fruit, vegetables, cheese, sliced turkey and put them on a plate with some crackers. Using the crackers as a base, I put turkey and cheese onto a cracker, then I dipped the celery and cucumber into the hummus, and ate the apple slices just as they were.
Equipment needed:
A sharp knife for cutting vegetables
Cutting board
Plate
A butter knife
Here are the ingredients I had:
Container of hummus (other options are Yumm Sauce or salad dressing)
One apple
One cucumber
Celery
Sliced turkey
Crackers
Sharp cheddar cheese
Smoked gouda
Cut the apple into quarters and remove the seeds
Here is a great tutorial
https://www.wikihow.life/Slice-an-Apple
Peel and cut the cucumber into thick slices
https://www.youtube.com/watch?v=yRtR5aZU6Z4
Chop off both ends of the celery then cut in half

Cut sliced turkey into a size that fits on the crackers

Slice the cheese

Put everything onto one plate

Enjoy!
Dressed up Mac and Cheese–
I went to a food cart in January that sold macaroni and cheese with pulled pork, another cart had mac and cheese with bacon. When I made this for my kids I often added tuna and peas.
If you have a box of any mac and cheese and vegetables, lunch meat, or leftover chicken it's pretty easy to add to, to make a good meal.
Here is what I have done most recently.
Equipment:
Suace pan
Spoon for stirring
Strainer
Saute or frying pan
Knife for chopping vegetables and garlic
1 box of Macaroni and cheese
Milk
Butter
Make mac and cheese according to the directions on the box.
What I dressed it up with:
Two heads of Broccoli cut into bite sized portions
1 Zucchini sliced and diced
https://www.myrecipes.com/how-to/video/slicing-zucchini
Two garlic cloves minced
Pepper to taste
Saute broccoli and zucchini in a tablespoon of olive oil or butter on medium high
for five minutes or until soft.
Add the garlic cook for a minute more stirring frequently
When it's finished add it to the finished mac and cheese
Enjoy!
Monday May 18th
This is a very yummy pasta salad! I have made this so many times, it's so delicious, and is always a big hit!
This salad makes a great side dish… or a lite lunch, all on it's own. I made some notes to the recipe below with
ideas for substitutions. Enjoy! ~Heather
INGREDIENTS
1/2 cup mayonnaise
2 tablespoons lime juice
1 1/2 teaspoons chili powder *(If you don't have chili powder & cumin, you can sub taco seasoning)
1 teaspoon ground cumin
1/2 teaspoon salt
8 ounces rotini pasta *(You can totally use other shaped pasta)
1 can (about 15 1/4 ounces) whole kernel corn, drained
1 can (about 15 ounces) black beans, drained and rinsed
1 pint grape or cherry tomatoes, halved *( It's also great to sub in some diced cucumbers, red onion, black olives, and cilantro)
1 small can (about 4 1/2 ounces) chopped green chiles, drained *(I usually sub these out for half of a green pepper, diced for a crisp fresh taste)
———————————————————————————————————
Wednesday May 13
Savory French Toast
French toast, as a breakfast item is often very sweet and is a vehicle for maple syrup, whipped cream or strawberries. French toast can be done as a lunch item or breakfast for people who want something that isn't sweet.
It goes great with a bowl of soup
It only takes a few ingredients and just takes a few minutes to make.
This recipe serves 4 (If you want to make less, one egg and ½ cup of milk should be enough for 1 or two slices of bread.)
Prep Time 10 Minutes
Cooking Time 10 Minutes
Equipment
Medium mixing bowl
1 cup measurer
½ cup measurer
Measuring spoons
Whisk (forks work too)
Frying pan
Cheese grater
Spatula
Large baking dish
Ingredients
3 eggs
1 ½ cups of milk
½ teaspoon salt
Black pepper
1 teaspoon dried basil, oregano or thyme
8 slices of bread
2 Tablespoons butter
½ cup of grated cheese
Directions :
Mix together ingredients
Break eggs into the mixing bowl and lightly whisk

Measure 1 and ½ cups of milk add to the eggs

Add salt, pepper and herbs

Whisk

Pour mixture into baking pan

Set as many slices of bread as you can fit into the baking pan

Soak bread for 5 minutes, turn over then soak for another five minutes
Fry the toast
Melt the butter in the frying pan on medium low heat

Add bread and cook until it the cooked side is brown

Turn over then add cheese to the cooked side.

Cook until the cheese is melted and the other side is brown.
Enjoy!
Here is a video showing it visually.
https://www.allrecipes.com/video/1226/french-toast-i/?internalSource=picture_play&referringId=7016&referringContentType=Recipe
——————————————————————————————————–
Monday, May 11
Breakfast Scramble!!
https://www.jessicagavin.com/breakfast-scramble-italian-sausage/
Something I love to do for breakfast is to toss together a quick scramble with: eggs, veggies, potatoes, cheese, and either ham or bacon. But, you can throw in whatever you like, a breakfast like this is so easy to customize. I've included a recipe and instructions to follow as a guide. But, I think it's more fun, and satisfying to use whatever you have on hand. I often use my scramble as filling for breakfast burritos. Hope you guys enjoy this recipe!
We would love to see photos of your creations! ~Heather
---
Wednesday May 6th
Pasta Primavera Using One Pot
This is one of my favorite dishes to cook in the Spring because I can get some of the vegetables included when they are still young. You can buy mixes of frozen vegetables for this recipe or use one or two of the vegetables you like.
The lemon, garlic and parmesan cheese is what makes it delicious.
Equipment
Knife
Cutting board
Spatula
Large pot
Measuring spoons
Measuring cups
Ingredients
2 Tablespoons of butter or olive oil
1 Red onion
2 cloves of Garlic
4 cups of hot water (from tap)
2 teaspoons of salt
One 12 ounce package of Penne Pasta ( One and a half cups of any pasta will work)
2 carrots
1Broccoli head
1 Yellow squash
1 Zucchini
10 Cherry tomatoes
1 lemon (juiced)
Pepper
¾ of a cup of Grated Parmesan
Directions
Cut vegetables and onion into bite sized pieces

Slice tomatoes in in half
Heat oil or butter in cooking pot over medium high heat. Add the onion and saute for 2 minutes, the onion should be soft and clear, add the garlic cook for 30 seconds.

Add the pasta, 4 cups of hot water, then add the salt.

Turn heat to high cover pan and bring to a boil.

After it starts boiling, uncover and turn the heat to medium high, stir the pasta

Cook on medium high for 8 minutes, stir occasionally

Add the vegetables then stir.

Cook for 2 minutes or until the vegetables are tender.

Add lemon juice

Pepper and salt to taste

Add parmesan and stir.

It's ready to eat
This is the recipe I used for inspiration
https://www.thekitchn.com/how-to-make-one-pot-pasta-primavera-256072#post-recipe-12561
Knife safety
https://www.youtube.com/watch?v=3kmDuLVwM48
Cutting an onion: from Gordon Ramsey
https://www.youtube.com/watch?v=dCGS067s0zo
https://www.youtube.com/watch?v=The6vuJocTI
Monday May 4th
Wednesday April 28th
Southwest Bean Salad
The portions of this recipe are for more than one serving,
once it is made it can be stored in the fridge and eaten over 3 or four days, or if there are others in your house who you can share it with.
You can also make it using smaller portions for a single serving.
If you have corn, beans and a jar of Salsa you could mix those together and it would be just as good as the recipe
https://www.skinnytaste.com/southwestern-black-bean-salad/
INGREDIENTS
15.5 oz can black beans, rinsed and drained

9 oz cooked corn, fresh or frozen (thawed if frozen)

1 medium tomato, chopped

1/3 cup red onion, chopped

1 scallion, chopped

1 1/2 – 2 limes, juice of

1 tbsp olive oil

2 tbsp fresh minced cilantro, or more to taste

salt and fresh pepper

1 medium hass avocado, diced

1 diced jalapeno, optional
INSTRUCTIONS
In a large bowl, combine beans, corn, tomato, onion, scallion, cilantro, salt and pepper.

Squeeze fresh lime juice to taste and stir in olive oil.

Marinate in the refrigerator 30 minutes.

Add avocado just before serving.
Monday April 27th
I don't know about you but when I make rice I always make way too much. Something that I enjoy doing with all that left over rice is to make fried rice. I warn you this only works with cold rice, please don't try to make this dish with rice while it is still hot. You will end up with a mushy mess! I have included a recipe; you can use it as a guide and make substitutions as needed. The link below will take you to a terrific website with pictures, video, and stepby-step instructions. Have fun with it & enjoy! ~Heather
https://www.gimmesomeoven.com/fried-rice-recipe/
Fried Rice Ingredients:
3 tablespoons butter, divided
2 eggs, whisked
2 medium carrots, peeled and diced
1 small yellow or white onion, diced
1/2 cup frozen peas
3 cloves garlic, minced
Salt and black pepper to taste
4 cups cooked and chilled rice
3 green onions, thinly sliced
3–4 tablespoons soy sauce, or more to taste
2 teaspoons oyster sauce (optional)
1/2 teaspoons sesame oil (optional)
Wednesday April 22
Enchiladas Monteca
This is a recipe a friend of mine, from New Mexico, likes to make for breakfast, it could also be lunch.
Ingredients
2 Corn Tortillas (could be flour tortillas, pita bread, regular bread)
¼ cup of Enchilada sauce (could use salsa)
Half a small Onion ( chopped into small pieces)
One egg cooked sunny side up (could be fried or scrambled)
1 cup of cheese
Directions
Cook the egg how you like it

Warm the corn tortilla

Put the tortilla on a cookie sheet

Sprinkle onions on the tortilla

Cover tortilla with ½ cup of the cheese

Place the other tortilla on top so its like a sandwich

Smother with Enchilada sauce (or salsa)

Put the egg on top

Add the other ½ cup of cheese
Next turn on oven to broil
Put in the oven
Broil until the cheese is melty and slightly brown
This is how it looks
https://www.pinterest.com/pin/20618110767014286/
Cool and enjoy
Here is what I did with modifications
---
Monday April 20
Something I enjoy making at home is pizza. It's fun to experiment with different crusts, sauces and toppings. If you don't have the usual toppings like Pepperoni or Canadian Bacon at home don't worry! Get creative and use what you have to make a delicious pizza at home. I just made one the other day with ham lunchmeat, bacon crumbles, spinach & tomatoes, and it was great! The main thing to consider is the weight & water content of the toppings you choose, and what you are using for crust. If the toppings are too heavy or wet they can weaken your crust, and make it soggy. It isn't necessary to make your own dough, or sauce, but if you would like to give either a try I've included recipes and links for each.
Crust ideas: Flour Tortillas, Naan Bread, Pita Bread, Store Bought Dough, Homemade Pizza Dough, etc…
Sauce ideas: Pizza Sauce, Marinara, Spaghetti, Alfredo, Pesto, Teriyaki, or BBQ sauces, Hummus, Salsa, Ranch Dressing, etc…
Baking Tips: Times & Temperatures will be different depending on what crust you use & your ovens at home. Some examples are: Tortillas 5-10 minutes at 350 -400 degrees, Pita & Naan Bread about 25 minutes at 425 degrees, uncooked dough 10-12 minutes at 425-450 degrees, maybe less time for very thin crust. Best advice, pay attention and keep an eye on your pizzas while they bake, until you find the time/ temp that works best for you.
Hope to see pictures of the pizza's you make. Make sure to have fun with it! ~Heather
Pizza Sauce Recipe:
15 ounce can tomato sauce

6 oz can tomato paste

1 Tablespoon Oregano

1/2 Tablespoon Basil

1 1/2 Teaspoon dried minced garlic

1 Teaspoon paprika

1/2 Teaspoon Sugar

1/2 Teaspoon Onion Powder
Video: How to make easy pizza sauce/ All Recipes:
https://www.youtube.com/watch?v=Y_vNTHJJ0bo
Pizza Dough Recipe:
1 teaspoon yeast

1 Tablespoon Sugar

3/4 cups warm water

2 -2 1/2 cups flour

1 1/2 teaspoon salt

1 tablespoon olive oil
Step by Step Directions for making Pizza Dough / Budget Bytes
https://www.budgetbytes.com/pizza-dough/
For fun:
I don't have a beautiful outdoor woodturning oven like this guy, but I really learned a lot and enjoyed watching him make pizza!
Youtube How to make a perfect pizza Gennaro Contaldo
https://www.youtube.com/watch?v=1-SJGQ2HLp8
——————————————————————————————————
April 15th
Wayne's Easy Power Breakfast
I like to do this when I have woken up late and need to hurry, or I'm about to go out for a run.
Ingredients:
English Muffin ( substitute bread, tortilla's or bagel)
Peanut Butter (almond butter, sunflower butter,)
Honey
Banana (any fresh fruit you like)
Equipment:
Butter knife
Toaster
Plate
Spoon -optional-
Sponge (for cleaning up spills)
Directions
Using the butter knife cut open English muffin and toast it (toasted english muffins have a nice crunch)

Using butter knife slice the banana

Take toasted english muffin and place the two halves on a plate

Spread peanut butter on one side

Add honey, using a spoon or squeeze bottle

Spread

Put sliced banana on top of peanut butter

Place other half of english muffin on top

Now you have a breakfast sandwich

Clean up

Pour a glass or cup of your favorite breakfast drink

Enjoy!
Video:
https://www.youtube.com/watch?v=3F-W4fGOSRU
———————————————————————————————————
April 13th. Zoom check-in 10:00-10:15. Telephone support after this.
Here is a link to w Anders reading through steps in this website.
https://www.loom.com/share/fd58202d407b426a96260f1cfa591a8f
Today we're making GRILLED CHEESE!!
Ingredients: Cheese, bread, butter, Salt&Pepper Extra: ham/onion/bacon/tomato/ oregano. The "extra" can be added inside the sandwich (or just have this on the side with your sandwich). When I make Grilled Cheese at home I use cheese, ham, salt, pepper and oregano.
Time prep: 5-10 min , Time cook: 5-10 min Time total: 20 min
10 min Prior to cooking: Here is a little tip on what to do if you find it difficult to grate the cheese (though you can just slice it for this recipe).
https://blogs.4j.lane.edu/connectionscooking/kitchen-hacks/grate-cheese-with-ease/
https://blogs.4j.lane.edu/connectionscooking/recipes/grilled-cheese-recipe/
Watch the video and follow the steps in the link above. Remember SAFETY FIRST!! If you're uncertain of steps or if you don't feel comfortable using the stove, please ask someone for help, or make another meal for breakfast.
Reflection: take a photo and save in a folder on your phone/computer. This can later be used as a reminder of how independent you've been with your morning routines. Bon Appetit!
FOR NEXT WEEK: Ideas for cooking: Today we'll take requests for what to cook next week. What would you like for the group to cook. Make suggestions and we'll take a vote.