March 1, 2021: Quesadilla S'mores
Effective Strategy #1: Give the people what they want…
And the people want S'mores in the comfort of their own home…
Presenting…..quesadilla-smores, the recipe!
Ingredients:
Tortilla(s)
chocolate (chips)
Marshmallows (small)
February 22, 2021: Ham & Egg Cheese Cups
This recipe looks fun and easy! Eggs + sliced Ham are the main ingredients. + Cheese
Preheat oven to 200ºC and grease a 12-cup muffin tin with cooking spray. Line each cup with a slice of ham and sprinkle with cheddar. Crack an egg into each ham cup and season with salt and pepper.
Bake until eggs are cooked through, 12 to 15 minutes (depending on how runny you like your yolks).
Garnish with parsley (or green onion or any herb) and serve.
https://www.delish.com/uk/cooking/recipes/a29030029/ham-cheese-egg-cups-recipe/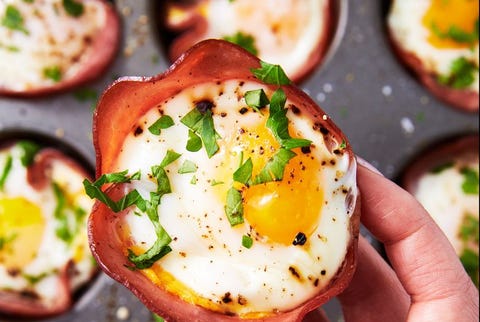 February 15, 2021: Chocolate Peanut Butter Banana Bites
This looks like a very fun and versatile recipe! You can make this for yourself or your housemates for something small to eat. This would also make a great thing to show up with to a party. The link below has a really clear and concise video showing step-by-step how to be successful.
Remember to gather or shop for the 3 ingredients. Also, there is 1 Prep Step below I would like everyone to try to have done before class starts.
All that is needed is..
1 or 2 bananas
Peanut butter
Chocolate for melting (any chocolate + oil/butter; microwave for 30 seconds)
https://www.eatingbirdfood.com/peanut-butter-banana-bites/
Successful Prep can be done 1 hour-30 minutes before class or Sunday night.
Slice the banana(s) and make peanut butter banana slice sandwiches.
Freeze for 1 hour so they stick together (30 minutes should work).
I'm including the two videos we watched in class today on how to melt chocolate and how to revive hardened chocolate to make it usable for baking.
February 08, 2021: Oatmeal Cranberry Cookies (Cranberries can be subbed)
Finished cookie dough (left), and with added chocolate chunks (right).
For this upcoming Monday
ALTERNATIVE Recipe: No Bake Energy Bites (freezable)
February 01, 2021: Banana Bread Muffins
Results:
There has been interest in making Banana Bread. I found two different, but easy and adjustable banana bread recipes. Below are student recipes and alternatives.
This first recipe is made with yogurt or sour cream
https://sallysbakingaddiction.com/best-banana-bread-recipe/
This second recipe is less ingredients and swears by Mayonnaise
https://www.spendwithpennies.com/easy-banana-bread-recipe/
Grace's suggestion:
Alternative: Cinnamon Roll Mug Cake
https://kirbiecravings.com/cinnamon-roll-mug-cake/
Seiji's interested in making Macarons (Special ingredients required)
https://cloudykitchen.com/blog/hundreds-and-thousands-french-macarons/
January 25, 2021 Microwave Mug Recipe(s)
I really appreciate everyone's participation today. We decided for the next class (in 2 weeks) we will make Microwave Mug Cakes/Muffins
These were the suggestion recipes. Please pick one (or more) recipe(s) and get all the ingredients before next class: 01/25/2021
The first two are my favorite.
Chocolate Chip Mug Cake
https://kirbiecravings.com/chocolate-chip-mug-cake/
Banana Mug Cake
https://www.currytrail.in/banana-mug-cake/
Blueberry Mug Muffin
https://www.homebaking.org/wp-content/uploads/2019/07/mugmuffinfoodsafety.pdf
Chocolate Mug Cake
https://www.currytrail.in/chocolate-mug-cake/
Peanut Butter Mug Cakes
Flourless Option…
https://kirbiecravings.com/3-ingredient-flourless-peanut-butter-cake-2/
Eggless Option…
https://kirbiecravings.com/peanut-butter-mug-cake-eggless/
January 11, 2021
This Monday's class I made a Marshmallow treat for my house using whatever cereal you have on hand.